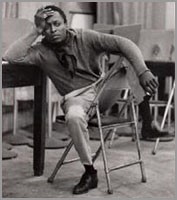 The variety of jazz styles that emerged during the 1950s was followed by very little agreement about how to describe them. Moreover, there is only limited consistency in how journalists and historians apply labels when they discuss jazz styles of that period. Here, Mark Gridley, discusses the uses of the labels of "Cool Jazz," "West Coast" and "Hard Bop," trying to clarify several trends in the vast array of styles that were evident in modern jazz during the 1950s.
Introduction. The variety of jazz styles that emerged during the 1950s was followed by very little agreement about how to describe them. For instance, Harvey Pekar (1964) has written about critics who "… consistently put down a New York City-centered jazz movement indiscriminately tagged 'hard bop,' or 'neo-bop' or 'post-bop.' They seemed to think that the music was nothing more than an imitation of bop plus the inconsequential addition of an earthy quality called funk, which was derived from Gospel and blues sources." On the contrary, he says, "During the 1950s there came to the fore many talented musicians whose point of departure was bop but whose object was to extend its limits and to conceive their own styles rather than to copy Charlie Parker and Dizzy Gillespie." After that introduction, Pekar discussed the 1950s work of Miles Davis, Thelonious Monk, Horace Silver, Gigi Gryce, Benny Golson, Clifford Brown, Thad Jones, Sonny Rollins, John Coltrane, Art Blakey and others.
With respect to the deceptive term "West Coast Jazz", Doug Ramsey (1986) reports that bandleader Shelley Manne humorously introduced his musicians to audiences by saying, "On alto saxophone, Frank Strozier from Memphis, Tennessee. On piano, Russ Freeman from Chicago, Illinois. Our trumpeter is Conte Candoli from Mishawaka, Indiana. On bass, Monte Budwig from Pener, Nebraska. I'm Shelley Manne from New York City. We play West Coast jazz." Ramsey has also pointed out that during this period a mythical dichotomy was "… flagrantly hyped by many record companies and music publications, most of which operated in the East.
The implication was that East Coast was better because it was true, tough, and honest; West Coast was worse because it was arranged, effete, and — the most damning charge of all — because it didn't swing. Implied in this attack was that West Coast Jazz was the music of whites and therefore deficient in that undefinable but essential ingredient that received so much attention at the time: soul." The present article offers clarification for three labels that have been applied to jazz styles that came to prominence during the 1950s: Cool, West Coast and hard bop.
Cool Jazz. Journalists termed "cool jazz" the work of many modern hornmen who employed slow vibrato, light weight, soft, dry tone qualities, and showed marked deliberation and exceptional economy in their improvisations. Much of this music avoided high notes and loud playing and sounded subdued by comparison with bop. In overall tone and feeling, some of it was reminiscent of the late-1930s combo recordings by tenor saxophonist Lester Young and pianist Count Basie that were exceptionally light and relaxed in feeling, thoughtful and uncluttered in conception. A premium was placed on lyricism, and, though serious and swinging, the style rarely projected the blistering drive associated with many swing era and bop era players.Within this collection of styles, improvisational conception was relatively original, as in the work of trumpeter Miles Davis, [1] pianist Lennie Tristano, [2] alto saxophonist Lee Konitz, pianist Dave Brubeck, [3] and baritone saxophonist Gerry Mulligan. [4] Sometimes it was derived from a model who portrayed these qualities, as in the Miles Davis disciples and Lester Young disciples who played with the Woody Herman and Stan Kenton bands of the 1940s and 1950s. [5] Cool jazz also marked a revival of counterpoint, especially in the bands of Mulligan, Brubeck, John Lewis, Jimmy Giuffre and Chico Hamilton. [6]Much music in this "cool" category echoed the bop styles launched by Charlie Parker, Bud Powell and Dizzy Gillespie. This is especially evident in the Modern Jazz Quartet, and the groups of pianist George Shearing and trumpeter Miles Davis. A few large-ensemble productions, which were dubbed as "cool jazz," stemmed from the Debussy-inspired approaches of pianist arrangers Claude Thornhill and Gil Evans. [7] Though some drummers who were associated with bands in this category were virtually indistinguishable from bop drummers, many played more simply, less interactively than bop drummers, and frequently they used brushes rather than sticks to strike their cymbals and drums, to be less intrusive than was common.
West Coast. During the 1950s, a number of the prototypic "cool" musicians were based in the Los Angeles area, and so the "cool jazz" style was accidentally construed as a regional style and dubbed "West Coast Jazz." A sizable portion of the major figures who are routinely called "West Coast musicians," most notably Gerry Mulligan, were not from California and lived there only sporadically during the 1950s. To be fair, however, note that Dave Brubeck, Paul Desmond, Art Pepper, Chet Baker, and others had grown up on the West Coast, bandleader Stan Kenton was based there, quintessential "cool jazz" musician Jimmy Giuffre lived in the Los Angeles area from 1946 to 1960, [8] and many others made their living in orchestras of movie studios there during the 1950s.
As used by journalists, the term "West Coast Jazz" is often unfortunate because it designates white musicians, thereby overlooking a vital community of historically significant black musicians who were based in Los Angeles, most notable among whom was bop saxophonist Dexter Gordon. Note also that the black Los Angeles jazz community of the 1940s and 1950s produced such giants of the 1960s avant-garde as bassist-composer Charles Mingus and saxophonist-flutist Eric Dolphy.
Hard Bop. During the 1950s, New York remained the leading center for recording activity in jazz, as it had been since the 1930s. But there were a number of distinctive approaches within modern jazz which, though first recorded in New York, gathered their greatest proponents from other cities. Some of these approaches were fairly new, and others were variants on previous styles. The labeling confusion that arose in response to this was worsened by the natural tendency of listeners to simplify and overlook distinctions in order to comprehend a complicated situation. There is only limited consistency in how journalists and historians apply labels to them when they discuss jazz styles of that period. What complicates matters more is that these labels are more common to the vocabularies of journalists and historians than to jazz musicians themselves. Musicians do not usually make the distinctions that will be outlined here.Some of the most prominent jazz musicians of the period were quite versatile, making significant contributions to several different styles of jazz, thereby confusing the already overwhelmed listeners who attempted to pigeonhole their styles. Historically, a few of these top musicians and their associates accidentally have been perceived as creators and masters of only one approach. For instance, it is common today for some journalists, teachers, and scholars to use the term "funky jazz" to label all the music, for instance, of such versatile jazz giants as pianist-composer Horace Silver and saxophonist Cannonball Adderley. [9] A limited number of pieces by them has become perceived as representative of their overall contribution to jazz history, when, in fact, those pieces are not indicative of more than a small fraction of their output (see: Pekar, 1964). Especially significant is that the same music is often considered to be synonymous with the jazz style called "hard bop." Let's examine three subdivisions of what has been termed "hard bop."First, a small slice of this music sometimes has been termed "funky jazz." It is often viewed as synonymous with "hard bop," rather than being only a subcategory of "hard bop." This was one of the smallest interests of the most talented and prominent modern jazz musicians of the period, though from the mid-1950s until at least 1970, it was more popular than any other segment of modern jazz, excepting the music of George Shearing and Dave Brubeck and, at least from 1964 to 1969, the bossa nova styles. The label "funky jazz" was attached most frequently to earthy, blues-drenched, gospelish pieces such as Horace Silver's "The Preacher," "Senor Blues," "Sister Sadie," and "Song For My Father" or various recordings of a piece by Bobby Timmons called "Moanin'," and pieces performed by Cannonball Adderley's bands, such as "Work Song," "Sack o' Woe," "Jive Samba," and "Mercy, Mercy, Mercy." [10] Also there were such best selling pieces as Herbie Hancock's "Watermelon Man" and Lee Morgan's "Sidewinder."
Now let's examine a second stream of styles that coexisted with "funky jazz" and was sometimes performed by the same musicians who included funky pieces in their repertory. This stream has no single, widely accepted name. The terms "post-bop" and "mainstream" have been suggested by some writers, but the terms failed to catch on, apparently because they lacked sufficient specificity to prove useful. (I prefer the term "hard bop.") Most styles within this stream are direct descendants of bop. In fact, their sounds often differ little from the sounds of bop. But often when they do differ, these trends can be observed:
lines are somewhat simpler than those of Charlie Parker and Dizzy Gillespie;
drummers in accompanist roles play with somewhat more intrusive activity;
tone qualities are darker, weightier and rougher;
the forms of the compositions are less frequently identical to pop tune forms than the forms for bop tunes were, and the chord progressions are more frequently created fresh by the musicians rather than being borrowed from pop tunes (Pekar, 1964);
by comparison with much of bop repertory, there is somewhat less of the start-and-stop quality that leaves the listener off-balance;
by comparison with bop, there is a more solemn mood projected, part of which seems to originate in a raw, hard-driving feeling that pushes relentlessly with an emphasis on consistent swinging (This music is almost never light-hearted);
by comparison with the earliest bop piano accompaniments, hard bop comping has more variety in rhythms and chord voicings.
These characteristics were first apparent during the early 1950s in the work of a few black jazz musicians, the most prominent of whom were trumpeter Clifford Brown, tenor saxophonist Harold Land, and the bands led by drummer Art Blakey. [11] Thereafter these characteristics persisted in many performances by subsequent bands which included those same men and the work of their associates and disciples, including saxophonist Jackie McLean, trumpeters Lee Morgan, Donald Byrd, to name just a few. [12] Some of these characteristics were also evident in the bands which departed much more drastically from bop traditions. In that sense, the combo work of Miles Davis and his associates during 1955 to 1962 also can be included within this stream of hard bop, even though much of Davis's work is routinely classified as cool jazz, and such labeling is not limited to his 1948-1950 nonet recordings, but also includes his early-1950s work with Sonny Rollins, Horace Silver, and Milt Jackson. [13]
The sounds described here were not exclusive to a particular geographic region. For example, precursors for the hard bop tenor sax styles include those of Dexter Gordon, who was based in Los Angeles during that period, and Sonny Stitt, who was based in New York. Usually termed "bop" or "hard bop" were saxophonists Harold Land and Teddy Edwards, who were playing frequently at that time in Los Angeles. Pioneering bop saxophonist Charlie Parker was widely imitated, and trumpeters Miles Davis and Fats Navarro, more widely imitated than Dizzy Gillespie, were important New York-based models for hard bop players. Additionally, there were a large number of players who, at one time or another, were vital parts of the jazz communities of Philadelphia (for example, saxophonists Benny Golson and Jimmy Heath, trumpeter Lee Morgan, and drummer Philly Joe Jones), Detroit (for example, pianists Barry Harris and Tommy Flanagan, trumpeter Donald Byrd, saxophonists Pepper Adams, Frank Foster, Billy Mitchell, drummers Elvin Jones, Louis Hayes, Roy Brooks, and guitarist Kenny Burrell), and Indianapolis (guitarist Wes Montgomery, trumpeter Freddie Hubbard, and trombonist Slide Hampton).
A third slice of non-"cool" styles of the 1950s constitutes a second wave of players who can be distinguished within the overall hard bop designation. These players made their marks during the 1960s, using bop only as a starting point, ending up with new music that contained few of the standard bop phrases. With the notable exception of saxophonist John Coltrane, who died in 1967, the top figures among this group were still quite active in the 1990s, providing prominent models for aspiring jazz musicians to imitate. The outstanding tenor saxophonists in this last category of hard bop are Joe Henderson and Wayne Shorter; the top trumpeter is Freddie Hubbard. The pianists are McCoy Tyner, Herbie Hancock, Chick Corea, Keith Jarrett, and the drummers are Tony Williams and Elvin Jones.
Some readers may be confused seeing some of these names placed in the hard bop category because they know them for non-hard bop styles that were developed in the 1970s, not the hard bop approaches played in the 1950s or 1960s. Wayne Shorter is one example who might be confusing because his contributions were fourfold: hard bop saxophonist-composer for Art Blakey from 1959 to 1964, saxophonist and composer of radically new approaches to melody and chord movement, changing the character of combo jazz for Miles Davis from 1964 to 1969, co-founder of the innovative jazz-rock fusion band Weather Report from 1970 to 1985 and then leader of his own jazz-rock fusion band thereafter. [14]
Summary. The labeling system described here is offered as a tentative means for clarifying several trends in the vast array of jazz styles that were evident in modern jazz during the 1950s. Several important streams of music that were omitted from this article also deserve comparable attention. These include the music of Ornette Coleman, Cecil Taylor, George Russell, Don Ellis, Charles Mingus, Gerald Wilson, Thad Jones, Maynard Ferguson, and Stan Kenton.
---
1. Miles Davis, "The Complete Birth of the Cool," Capitol 16168 (T762). 
2. Lennie Tristano, "Crosscurrents," Capitol 11060. 
3. The Dave Brubeck Octet, "Fantasy," OJC-101 (Fantasy 3-239), 1946 and 1948-49. 
4. "The Complete Pacific Jazz and Capitol Recordings of the Original Gerry Mulligan Quartet & Tentette with Chet Baker," Mosaic MR5-102, LP box, available only by mail: Mosaic Records, 35 Melrose, Stamford, CT 06913- 0170. 
5. Stan Kenton, "New Concepts in Artistry in Rhythm," Creative World 1002 (Capitol T383), 1952, featuring Lee Konitz, Conte Candoli, Frank Rosolino, and Maynard Ferguson, with arrangements by Gerry Mulligan, Johnny Richards, Bill Russo, and Bill Holman. 
6. Regarding the 1951 work of Mulligan and his partner, trumpeter Chet Baker, Bob Porter (1981) has written that " … the contrapuntal weavings of the two horns were mimicked all over the country." Dave Brubeck (1956) wrote "Counterpoint … almost dormant in the Swing era … is now a commonly accepted device in modern jazz …" 
7. "The Memorable Claude Thornhill," CBS 32906. 
8. Outstanding undertakings for Giuffre include a trio he led with trombonist Bob Brookmeyer and Jim Hall during an eighteen-month period in 1958 and 1959 ("Western Suite," Atlantic 1330; "Travelin' Light," Atlantic 1282). Their music was light and lyrical, but also earthy and rhythmically daring. It featured close, three-way cooperation in the creation of improvised counterlines. The trio generated group improvisations that were very cohesive, original, and swinging (despite the absence of bass and drums). Preceding this was a series of innovative recordings with Shelley Manne and Shorty Rogers, who were also based on the West Coast at that time: Shelley Manne, "The Three" and "The Two," Fantasy / OJC-172 (Contemporary 3584), LP, 1954; Teddy Charles / Shorty Rogers, "Collaboration: West," OJC-122 (Prestige 7028), LP, 1953.
The diversity of "cool jazz" on the West Coast is illustrated by contrasting the sounds of Giuffre with those of Art Pepper, who was probably the hottest West Coast "cool" player: "The Complete Pacific Jazz Small Group Recordings of Art Pepper," Mosaic MR3-105, LP box, 1956-57; Modern Art, Blue Note 46848, CD, 1956, with Russ Freeman (originally on Intro 606); "Intensity," Contemporary 7607, CD/LP, 1960. 
9. For non-funky examples by Cannonball Adderley, Horace Silver, and Art Blakey, listen to Silver's "Ecaroh," in "Art Blakey and The Jazz Messengers," CBS 37021 (CL897), LP, 1956; Cannonball Adderley's "Cannonball & Coltrane" (Quintet in Chicago), Emarcy 834588 (MG20449) CD, 1959; and the following Art Blakey albums: "A Night at Birdland," Blue Note 46519/20 (1521/22), CD/LP, 1954; "A Night in Tunisia," Blue Note 46532 (84049), CD/LP, 1960; "Indestructible," Blue Note 46429 (84193), CD/LP, 1964; "Buttercorn Lady," Emarcy 822471 (Limelight 82034), CD, 1966. 
10. To learn what is meant by "earthy, blues-drenched, gospelish," listen to Avery Parrish's "After Hours" in "Jazz Piano" (Smithsonian 039), Horace Silver's "The Preacher," "Sister Sadie," "Senor Blues," and "Song For My Father," or Bobby Timmons's "Moanin'," Nat Adderley's "Work Song," "Sack o'Woe," "Jive Samba," Joe Zawinul's "Mercy, Mercy, Mercy," or Lee Morgan's "Sidewinder." If you do not have access to any of these pieces, look in any good library for the multi-volume "Recorded Anthology of American Music," prepared by New World Records. In the volume called "Bebop," NW 271, listen to the funky melody line by Horace Silver called "Stop Time." 
11. For representative examples of Clifford Brown and Art Blakey, listen to Art Blakey's "A Night At Birdland," Blue Note 46519/20 (1521/22), CD/LP, 1954; and "Complete Blue Note and Pacific Jazz Recordings of Clifford Brown," Mosaic MR5-104, LP set, 1953-4. 
12. The musicians playing with drummer Art Blakey's quintets and sextets have worked within this style almost without exception into the 1980s, as have those who joined the numerous quintets and sextets led by pianist Horace Silver. 
13. Even the 1959 Miles Davis, "Kind of Blue" album, with Adderley and Coltrane, is tagged "cool jazz" by some listeners, though I am more comfortable calling it "hard bop" or "modal jazz." 
14. Hard bop was as much a black-dominated style as West Coast-style cool jazz was white-dominated. With the exceptions of Chick Corea and Keith Jarrett, all musicians mentioned above are black. 
First published in Tracking: Journal of Popular Music Studies, February 1990, 2(2):8-16
---
References
Brubeck, Dave (1959), The Dave Brubeck Octet. Liner notes to OJC-101 (Fantasy 3-329), released in 1956.
Pekar, Harvey (1964), "Post-Bop," In: Music '64. Chicago, Illinois: Maher Publications, 1964, 84-89.
Porter, Bob (1981), Cool California. Liner notes to Savoy 2254, released in 1981.
Ramsey, Doug (1986), Atlantic Jazz — West Coast. Liner notes to Atlantic 7 81703-1, released 1986.